August 24, 2022
15 Years of FOCUS
FOCUS Celebrates 15 Years of Right Team and the Right Clients
When founder and general manager Ron Paul first considered owning and managing a business, like any well-intentioned entrepreneur he took stock of his motivations, strengths, and skills. One of the first things Ron recognized about himself was that improvement and creation have always appealed to him. "Whether a house remodel, landscaping project, or restoring a truck, I've always been drawn to the idea of improvement and growth," he shares. 
Even as a young kid involved in sports, Ron acknowledged his passion to build teams. Just as an athlete shores up strengths and eases weaknesses in well-rounded teams, Ron knew he could overcome any challenge with the right people around him. Humble and honest, he also recognized his personality might be a challenge when it came to seizing the opportunity to own and lead a business. "I'm an ambivert, but I have a greater tendency to be an introvert," he admits. "And I don't consider myself cut from the corporate cloth. The world of personal agenda and cronyism has never been for me, so I knew it would be difficult for me to climb the corporate ladder."
While he didn't have the finances to do it on his own, Ron felt that the professional relationships he had built over the preceding would help him start something from the ground up. Those relationships were strengthened by his industry expertise, a high work ethic, unyielding determination, and grit to build a successful firm.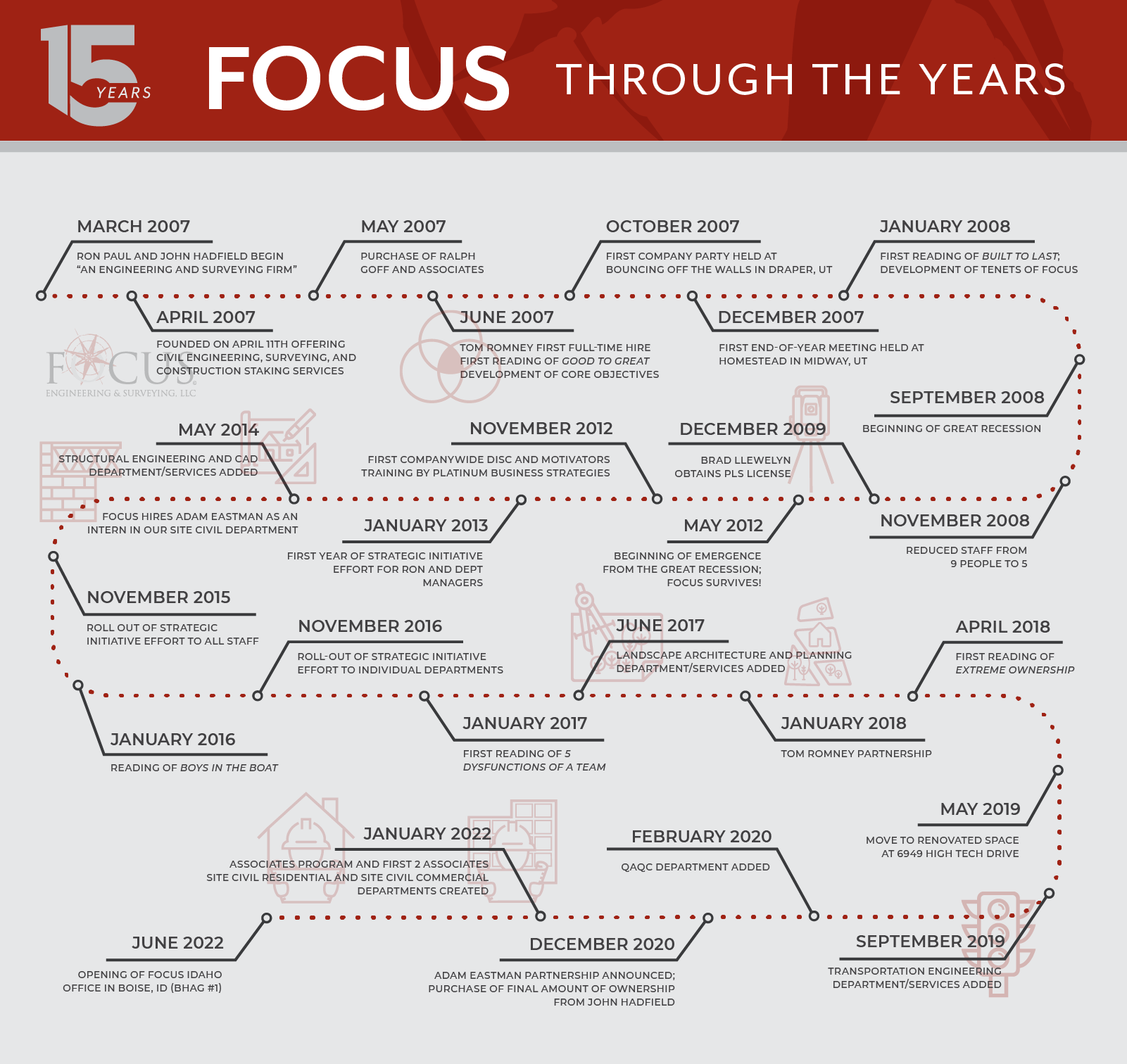 The opportunity finally came along in 2007 when Ron was approached by John Hadfield of HADCO Construction. This friend and client had worked with Ron on several projects, and they shared a common focus on private residential development. "John approached me with the idea of partnering to start an engineering and surveying firm," recounts Ron. "This was the opportunity I was looking for in my career." 
Initially the company concentrated on what Ron feels are core FOCUS services: front-end survey, engineering design, and back-end survey (construction staking) for private development. These were the service areas Ron had provided in his career and the skillset clients recognized as his areas of expertise. 
Tom Romney was the first full-time hire and has played an integral role in shaping the firm's Core Ideology (mission and values). Later, he earned partnership at the firm.
New services were added based on client need and strategic hires or promotions. Adam Eastman started at FOCUS as an intern in the civil department. He found his path in structural engineering, and the Structural Department was added in 2014. Around the same time, Jason Barker started the CAD Services Department. In 2017, FOCUS expanded further to include landscape architecture and planning services. In 2019, Jason Watson was hired to develop the Transportation Department. In 2020, the QAQC Department was added.
FOCUS's engineers, planners, and landscape architects are supported by skilled civil design technicians, surveyors, and administrative professionals. "It is a very special group of people who help me become a better person," says Ron. "I feel fortunate to be part of something that feels like it has naturally fallen into place." 
Looking back over 15 years, Ron is grateful he trusted his instincts. He has made the most of surrounding himself with the right people and believes it's truly the secret to building a successful firm and a successful life. "If you have the right team and the right clients, and you continually work on building and strengthening those relationships, what could ever go wrong?"