February 11, 2021
Partner Profile: Jarrett Architecture
Jarrett Architecture has been in business since 2018 and has already amassed a wide range of impressive projects that include full-service architectural design of hotels, assisted living and skilled nursing facilities, office core and shell/tenant finishes, retail spaces, multi-family living, gorgeous custom homes, and site planning and massing studies.
President Riley Jarrett, AIA, says their propensity for success is simple. "As a smaller firm, we are able to provide our clients with a very focused design and collaboration with the entire team, from conception to completion," Jarrett said.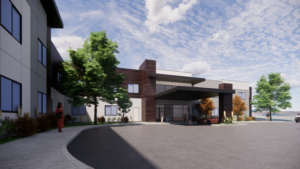 Saratoga Dignity Care
This seamless relationship makes them the perfect partner for FOCUS Engineering & Surveying, where our priority is to support, motivate, and encourage one another to become the best we can. We are diligent in our interactions with clients and associates, and it is easy to work with a team like Jarrett Architecture, ewho align with these cornerstones to superior service and planning.
"Construction is a multi-faceted process, which requires a lot of planning and quick problem-solving," Jarrett said. "We like to implement a design-build process with our GC, Rimrock Construction, at the beginning of the project to provide the client with exactly what they're looking for at the cost they expect."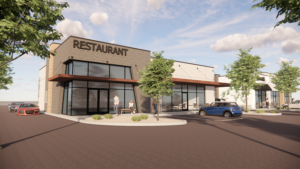 Spanish Fork Retail
Proving this consistently, Jarrett Architecture has become a go-to partner that FOCUS has relied on for nearly a year now and over a dozen projects. Their ability to be flexible and responsive have made them a trusted extension of the FOCUS team and a benefit to our projects.
"Probably our favorite project with FOCUS has been working on the West Jordan townhomes," Jarrett said. "That project was a great example of how quickly FOCUS has been able to work through a design. They were great at being able to provide us with our different framing options to meet the needs of the client and interior designer, while still coordinating with the other disciplines."
FOCUS appreciates the cohesive planning and consistently creative designs that Jarrett Architecture provides our clients and us. We look forward to enjoying more success as partners in our upcoming projects, and for years to come!