May 23, 2022
Partner Profile: Utah Transit Authority (UTA)
The Utah Transit Authority (UTA) has come a long way from its humble beginnings. Incorporated in 1970, UTA started with only a few dozen 20-year-old buses while repurposing an old gas station on Beck Street for their first headquarters. UTA is proud to have grown with Utah—supporting the mobility, opportunity, and economic vitality of its citizens for over five decades. Today, UTA is one the largest geographic transit agencies in the country.
UTA helps Utahns take more than 44 million trips a year, across six counties and 80 cities—thanks to 700 fixed route and paratransit buses, 117 light rail vehicles, 52 commuter rail passenger cars, 18 commuter rail locomotives, 471 vanpool vehicles, 2,600 employees, and over 900 operators.
UTA continues to innovate. Today, riders can use their mobile phone to plan a trip, track a bus, and even pay their fares. They have adapted their bus fleet to include hybrid, compressed natural gas, and fully electric vehicles, as well as historically-inspired trolley buses. Perhaps you've seen them in your city.
Brandon Heath of UTA spoke about his favorite type of project. He admits, "I enjoy projects that make UTA's system more accessible to all riders." A new service called UTA On Demand is no exception. UTA On Demand was recently introduced in southern Salt Lake County and Salt Lake City's westside. Similar to a rideshare service where trips are booked with an app. The algorithm matches people headed in the same direction. This means you're getting the comfort of a private ride with the efficiency of a shared one. 
Jason Watson is proud to be designing UTA's most recent project at FOCUS Engineering. "It's been great working with Brandon. He has been very responsive to any questions that have come up during design." The five facilities being designed will be a great resource for UTA operators at hubs in Midvale (two locations), Murray, West Jordan, and Farmington Station.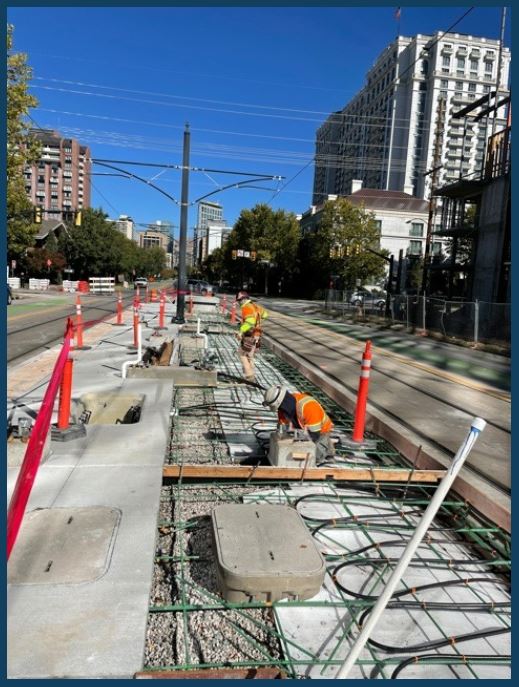 Jason shared, "This is a great project because—although our transportation team is designing it—we are using several different departments within the walls of FOCUS, including site civil and surveying, to make UTA's project a success." UTA expects construction to begin this year. The new facilities will be open in 2023. 
Brandon added, "The best projects seem to have a collaborative approach where the client, design consultant, and contractor work closely together to solve issues and make progress. Teaming with FOCUS Engineering on this project has been a great experience."
Keep riding. We'll keep designing.